@nbsp;
Why I Love Oils
Creative oil painting on canvas is to love oil paint, the sensuous feel of it, its consistency, its smell. By mixing it you can get the finest nuances of color. I achieve many of my shades by mixing color with color. I do not use black.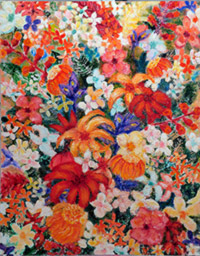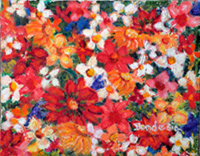 The idea behind "Spring has Sprung" and "Abundance" was to display the great variety of flowers. Paint the underside of real leaves in different shades of green (using acrylic paint). Smooth out the leaves, paint side down directly on canvas. Bear in mind what you want to achieve in balance etc.
By looking you can still see some of these leaves. Start painting flowers from memory or from photos. Paint flowers in oil.
Your First Effort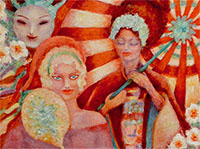 Your first effort should be right brain.  Then, bring in the left brain. Consciously, think about the rules, which by now should be lodged in your gut. Is this going to be a warm painting (e.g. lots of yellows and warm reds etc.)?  In which case, 75%-80% of the colors will be warm. For the contrasts in cool colors, examine "Free to be the best you were born to be", located to the right, and view the larger version below.
Creative Oil Painting on Canvas: The Basic Rules
Keep to the basic rules of creative oil painting on canvas. Work from lean to fat. Apply oil paint over acrylic. Never do it the other way around. Think about it and leave it for some time, I am always working on five or six canvasses.

When Your Painting Technique Does Not Work
There will be places that do not seem to work. Remove these with sandpaper. Paint over the troubled spots with "Grumbacher " MG white underpainting. When it is dry, then sandpaper it to smoothness. Spray with "Grumbacher" Damar retouch varnish. Then paint in your desired image.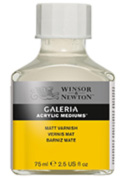 Letting Your Art Go
If and when you decide that a painting is as far as you are going to take it. Oh happy day!! Sign it and put it away for about a year. And should you decide that you can live with it, seal it with "Winsor & Newton" Matt Varnish.
Click on images below for larger size
Oil Paintings from: Sizes 22 X 28 Inches to: 30 X 40 Inches