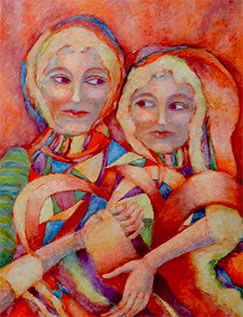 If you're a new art collector, you may believe that you don't have the budget to purchase original paintings. Painters create works in a variety of mediums, styles, and sizes in a wide range of prices–some of which may be valuable for you to purchase now. If you love fine art, we encourage you to browse our selection of original paintings, our creative painting ideas for canvas.
Creative Painting Ideas for Canvas
Our selection includes mixed media, collages, oils, and more oils, plus acrylics, pastels and colored pencil.
Whether you are looking for an original abstract painting, a modern art painting, or a limited edition watercolor print signed by the artist, our gallery provides different types for your viewing.
Paintings both reflect the artist's point-of-view and enjoy an independent voice speaking uniquely to each beholder.  Some collectors focus on media, such as oil paintings on canvas, or watercolors.  Others specialize in a particular style, be it fine art, renaissance art, or expressionist paintings.
We are thrilled to help people everywhere discover, fall in love with, and own our one-of-a-kind paintings.
These creative painting ideas for canvas have a life of their own: They spring from the painter's soul.