Why Do I Like Acrylic Paint?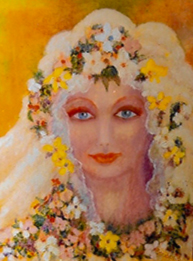 I use creative acrylic painting techniques on canvas for its immediacy, because it dries quickly. It acts as one of the best bases for mixed media and collage. I use acrylics when I want real, silver or gold, as in my painting, The Sands of Life.
How To Use Acrylic Paint

Acrylic paint is water based, and that can be confusing. You use water to clean the brushes and to thin the paint. Where acrylic paint lands, it clings, and nothing will remove it, either from tiled floors or from nail polish. With acrylics use a painter's drop cloth, which you can find at Home Depot. Do not flush or pour acrylic paint through the plumbing system. It clings to the inside of pipes. Discard it in plastic bottles with lids.
Creative Acrylic Painting Techniques on Canvas: When To Use Acrylic Paint
When I reach the stage where an idea is absolutely haunting me, and when I dream seeing that idea in color, I take a canvas and start "messing" on it, and start applying creative acrylic painting techniques on canvas. Acrylic paint works best for me at this stage.
The Best Way to Start with Acrylics
It is invaluable to work out the composition, which is the way the image is going to fit on the canvas.
Composition is like the foundation or blueprint of a building. If the composition is not good, no amount of "window dressing" (e.g., good drawing or beautiful color) is going to produce a good painting.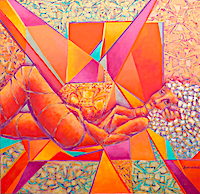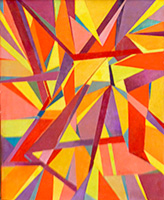 In hard edge on abstracts like "Angles", and in parts of "Irradiation", to get straight lines, get your idea on the canvas. Using masking tape, start with a triangular shape. You tape around all three sides. Push the sides down flat. Then paint the inside of the triangle. When the tape is dry, remove it, and tape the triangle again from the inside. Then paint around it. Every shape needs to be taped twice. With circles cut the one side of the tape at regular intervals not quite through. Tape the smooth side of the tape to the inside of the circle etc.
"The Candy Factory" was painted freehand with the help of a ruler. When the painting is finished, to preserve it, paint over with it Liquitex acrylic matt medium.
See all images below.