What Is Mixed Media Anyway?
In South Africa, each year in elementary school, you receive a hardcover exercise book from your teacher. It is called an Anthology. The teacher will paste in the poems you will memorize throughout the year. You are supposed to illustrate it anyway you want. That is, by pasting in favorite pictures, or drawings, or paintings.
This original mixed media art for sale is based on exactly the same idea. It is just more fun. I bring together everything I have learned, seen, enjoyed and experienced.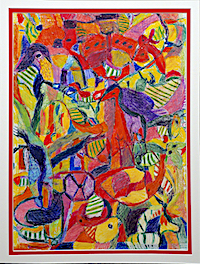 For example, in "All things Weird and Wonderful", on heavy paper, I began drawing on the edges of the paper objects I saw in the room. I kept turning the paper until all the edges were covered. With colored pencils I connected the drawings until a cohesive pattern grew on the page.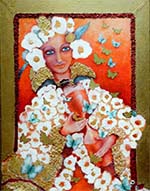 "Summer Showers" came from a posing model, and I used soft pastels to finish it. Do not spray the painting ever, because it will spoil the effect. Its idea? Enjoy walking in the rain.
In "The Sands of Life", a woman with very small hands is pressing the timer against her chest. She is unable to slow down the sands of her life. Yet, the butterflies, promise a rebirth.
I started the idea with messing on a canvas with acrylic paint. Then I made a frame out of perforated plastic tape and finished the frame by taping its edges, and then designed an inner frame by mixing 50/50 Acrylic Modeling paste with Acrylic Matt Gel. I made the marks on it with a fork.
I painted her cloak made up of flowers with acrylic white and gold paint. I glued cuffs and collar with crushed eggshells, and then painted the face with paint acrylic gold. Face, hands and background are done in oil paint. I colored the frame with "rubbing gold."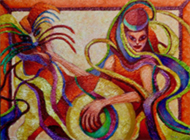 In "Taming the Beast Within" I used same frame, etc. The flouting ribbons were treated the same way. In some of the areas of the painting I attached crushed eggshells in order to achieve the effect of roughness. For the woman and the animal I applied a 50/50 mixture of paste and gel, and then painted the whole in acrylic paint. I finished with oil paint. The meaning of this painting: Suppress your more destructive impulses.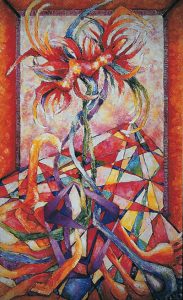 "Fecundity" is treated the same way. Its message is: Do not let fear constrict you! Grow out of your purple pot (your circumstances) and achieve your potential.
Original Mixed Media Art For Sale:
View all paintings below.