About Collage
Creating with fine art collage techniques is truly to be working in a happy medium. Use the items you have hoarded. Old costume jewelry, curious pictures too beautiful to discard.
Making Your Own Papers.
Wall paper (you can get old sample books from dealers.) Or special papers made for this process. You could work on watercolor paper or treated boards made for it.
Work Out the Idea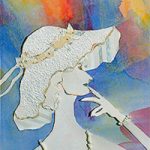 As in "Gemini", work out the idea. It is better to work on heavy duty art papers. (Always bear in mind the durability of your efforts)  On watercolor paper I paint in background with diluted acrylic paint.
Cut out the figures with an exacto knife, and be careful with the hands. Cut out the clothes, and hat from wallpaper. Assemble add beads and flowers to hat. I did not glue the hands. See below.
Basic Concepts of Landscape Painting: Fine Art Collage Techniques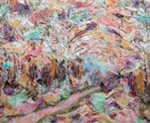 "Into the Woods"   Bear in mind the basic concepts of landscape painting. With acrylic paint , paint in the road as well as the piece of sky visible at the end of the road.
At tree level "pleat" tissue paper and glue it to board with Liquitex acrylic matte medium.  Skip the place at the end of the road. Paint in tree trunks over the pleats and bare branches here and there in the sky. Branches meeting over sky area at end of road. Glue on wallpaper tree trunks and thread tree trunks as well as branches here and there. Put in leaves on trees and rocks and shrubs on foreground. In this case, egg shells for flowers or fruit on the trees. These all make up fine art collage techniques  See below.
Making Mono Prints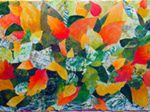 "Autumn"  Mono-print leaves and fence. Put veins on the leaves with thread, and then paint everything.   Assemble them until pleased with composition. Trace whole on tracing paper.  Remove layer by layer and trace what is left. In this case there were five layers.
Starting from bottom, and with the aid of the tracing images, glue in one by one. See below.
Click on pictures below to view larger size.