Suggestions for Oil Painting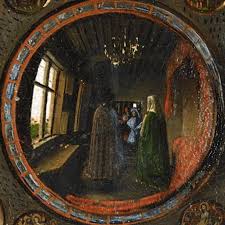 To achieve a high degree of creative painting in oils permanently put a large mirror behind your workstation. Make sure you give yourself enough room to move between your working station and the mirror.
Start your picture by painting the idea on a canvas. I prefer to put it together with oil or acrylic, and diluted yellow ochre paint.
Stand back and look at your work in the mirror.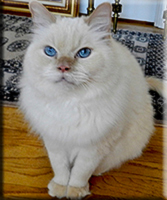 This way you will see and be able to correct the weak spots. You could also look at the canvas turned upside down. At this stage, I normally put it on another easel in the kitchen up high so that my cat, Michael, cannot paint it over with his tail. Then I stare at it for a few days. Michael sometimes stares at it too, though I am not sure if he is looking at it or something else.
When satisfied, paint.
Creative Painting in Oils: How Paintings Change
Most of my paintings change in the process of creation. For example, "Let's fly a Kite" began with a model sitting on a stool, leaning on a stick. I let him sit on a wine keg holding a kite. At all times use your imagination.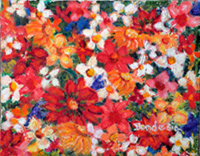 "Abundance "is a smaller version as painted in "Spring has Sprung". So is "Floral Study."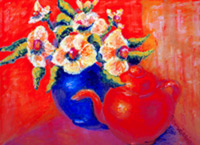 In "The Orange Teapot", before starting, I painted the whole of the canvas in orange and yellow orange acrylic,
I often paint a canvas because I like the shapes, e.g. a teapot, a red jug and a big tree.
I paint "Lemons" and then painted over it with oil color pastel (crayons). Then, I wet the pastel with turpentine in order to get the color nuances in the plate.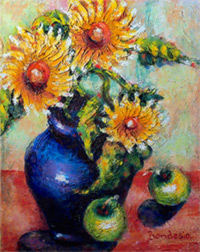 "Sunflowers" was created from a still-life set-up, using heavy oil paint and applied with a palette knife.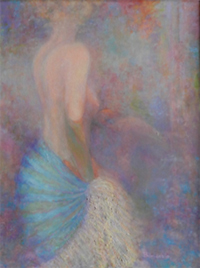 "Sophistication" was painted from a model. I put in the background by applying fairly heavy oil paint in large pats. Bearing in mind how and where I wanted the colors, and using an old piece of toweling
wrapped around my finger, I softly blended the colors and formed a cohesive background. This is how creative painting in oils is employed.
8 X 12 Inches
to:
22 X 28 Inches