Mono Prints
Remember how easy it seems to draw in wet sand?
Remember how easy it seems to draw in wet sand? Monoprint on canvas art works on the same principle.
Use Plexiglas (It can be found at Home Depot). You could also use glass, but it is not so safe. 12 X 18 inches seems a good size.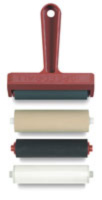 With special inks meant for this purpose, apply a buttery layer to the surface. You could use a brayer, which is a hard plastic roller used for installing wallpaper.
Employ one color primary and add other colors if you want to. I mostly use one color.
Use anything you can find to make marks on this ink. A coin works well. I once used a soft squash ball and created a beautiful mermaid.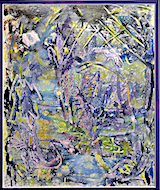 In " Butterfly", a collage which you can see here,  I drew a vase with flowers. I got two mono prints from it, which I treated differently. For " Dream scene" I used blue ink and let my imagination run wild. And I mostly used a five cent coin.
Carefully, put a piece of heavy watercolor paper or board over it. With a clean brayer, carefully work over the whole piece of paper to transfer the image.
Turn over, so that the image is now on the top,  and allow to dry. Then, I use colored pencils and color in what I see. Bear in mind all the principles of good painting. Composition, lost and found edges, etc.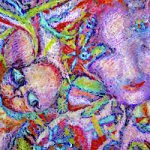 "Happy Childhood" was imaged in the same way. In this case I happened to see a child with a stuffed toy, and reproduced that. The possibilities are endless.

Monoprint On Canvas: An Essential Description of the Creative Process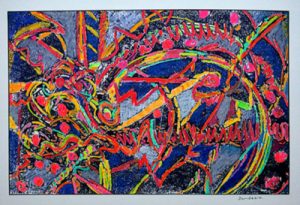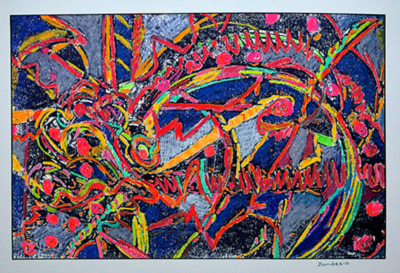 "Now you see it – Now You Don't" This started out as the Scorpio theme as part of a star symbol series that I was designing. This change happens often. By turning it around, and by changing one image to another,  I saw an animal and all kinds of new things. So, I colored them in as well.
Sometimes the ends of the finished mono print tend to curl at the edges. Better put it under wax paper with heavy books on top until it is time to frame it. Then use non-reflective glass. For this mono print on canvas, I prefer double or triple matting.